Randall Munroe, the creator of the well-known webcomic, xkcd, is on a relaxed publishing schedule due to a very sick family member right now. And out of that trying experience, he draws these three awesome panels: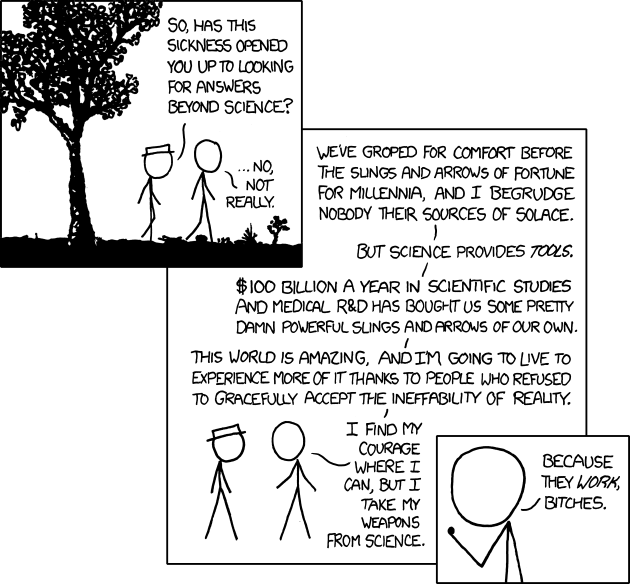 Hell yeah, Randall.
Something Personal
When my father was fighting cancer, he (even while being a man of faith and prayer) relied on the advances of medicine and scientific research to fight the disease and keep it at bay as much as possible. Even though he wanted God to heal him, he still knew that medical care and advanced technology would be the most important weapons in the fight.
Now I look back and think, Why did we hope for miracles when we knew medicine would do all the real work? I'm honestly not sure if there are any practical reasons for prayers. When someone you love is dying, you want them to be instantly free of illness and suffering. Who wouldn't? A miracle is a get-out-of-cancer-free card that no believer would turn down. To faithful Christians like us, we prayed for that easy-out, but we truly trusted in the doctors, the chemotherapy, and all of the other treatments used that were backed by tested science.
When praying for healing, you never know if you'll be heard or if it will ever happen. There can be no reasonable expectation or time table; healing either happened or it didn't, and sometimes a "miraculous healing" looked just like something explained just fine by science anyway. So when a loved one is ill or dying, you can feel free to hope for an immediate improvement, but trust in those who have tested treatments and medicines that you know can help. Even if your loved one does die, you can at least be thankful that it wasn't your fault, your lack of faith, or anyone's relationship with a deity that was at fault.
Science works, bitches!